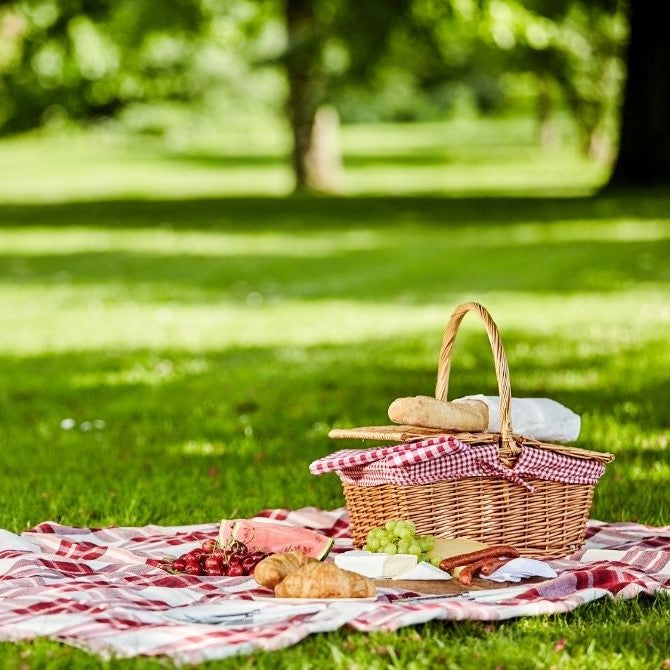 Tips for Packing the Perfect Picnic Basket
As British writer W. Somerset Maugham remarkably noted, "There are few things so pleasant as a picnic eaten in perfect comfort." Picnics are the epitome of peace, joy, and utter satisfaction. The lion's share of individuals associate the word "picnic" with a sublime summer feeling—carefree days spent barefoot in the greenest of grasses, softly sipping on sunshine or sangria under the shade of a large oak or sycamore tree. However, assuredly that perception is not always the case. Picnics are a prime possibility any time of the year—summer, spring, autumn, and winter alike. Blizzard s'mores or hot cocoa, anyone?
As the season changes over to embrace the glory of all things fall, you'll find that autumn is still a perfect time to plan a praiseworthy picnic. Jewel-toned leaves, fewer bugs and humidity, crisp, fresh air, and quality time with friends and family are right at your fingertips. Are you ready to reach out and grab it? We've compiled a general guide to help ensure your picnic basket is full of everything needed for a memorable outdoor occasion. Here are some clever tricks and sensible tips for packing the perfect picnic basket.
PLAN YOUR MENU ACCORDINGLY
A picnic is only as good as its food and drink selections. Dining alfresco in the great outdoors has one simple rule to follow: the less hassle, the better. Your menu should include tasty items that are both portable and mess-free.
Satisfying your picnic crew truly depends on individual preferences about sweet or savory tastes—not to mention the chosen picnic spot. A waterfront beach? Park or forest? Rooftop? Wherever you choose your picnic to be, a comfortable and cozy gathering requires a bit of prep work.
Time and Location: Appropriately Festive
When planning out the menu to pack in your basket or cooler, consider the time of day and the desired location. You should choose food items that will keep as long as they need to outdoors. Avoid foods that are attractive magnets for sand on a beach or spoilage in the sun on a warmer day. Packing a picnic basket stocked with healthy options is the best-case scenario. Easy-to-pack appetizers such as individual harvest salads, fruits, veggies, crackers, chips, dips, wraps, and sandwiches are wonderful picnic components for an ample autumnal lunch.
For a picnic dinner, try switching out traditional summer fare for heartier main courses. Or, infuse autumn-spiced flavors. Personal charcuterie boards or cones are also a worthy alternative to traditional dinner fare. Avoid any greasy foods or items you'd need to cut with a knife. Finally, skip out on the classic lemonade or six-packs and bring along satisfying seasonal drinks. For a festive fall outing, a thermos of hot beverages such as apple or pumpkin-spiced cider is a perfect idea.
PACK UP PERISHABLES: TEMP AND STORAGE
When it comes to packing up perishables or chilled items, pre-chill anything you'd liked served cold and place the items in an insulated cooler with ice packs. Perishable foods include poultry, meats, fish, eggs, and dairy-based products. Likewise, place anything you desire to keep hot in thermal containers. Temperature control is key to enjoy your food when and where you want it.
Environmental Considerations
When packing a picnic basket, consider going light on the planet as well—you can find reusable eco-friendly dishes or containers to eat off of for any outdoor occasion. This straightforward green tip eliminates the fuss of messy clean-ups after your alfresco meal. No worries about left-behind carbon footprints, either.
Health Concerns: Avoid Cross-Contamination
Stay on top of food safety and avoid cross-contaminating raw meat with ready-to-eat foods. Nobody desires to be sick. Keep in mind that we're living in times where health is of the essence. Choose to keep the picnic safe and friendly for everyone with pre-portioned containers, simple meal boxes, or individually-wrapped foods to avoid the potential of sharing germs from passing around tasty picnic items. Be sure to throw in hand sanitizer when packing up.
PREVENT EPIC FAILS: BRING ALONG EXTRAS
Picnic errors happen to all of us one time or another. Whether it's leaving behind ingredients or supplies, a surprise rainfall, a dive-bombing seagull, a loose pet, a major spill, or crying kiddos, all you can do at the moment is laugh at misfortunate and make the most out of the experience. Preventing epic fails, however, is possible with the right tips for packing the perfect picnic basket. Squeeze in picnic goodies that are worth schlepping from here to there on your packing list.
Utensils and Tableware
One word about these consumer goods: essential. Better safe than sorry, right? With finger foods and packed containers, you may think twice about bringing along extra utensils or tableware. Nevertheless, be sure to include these items, as well as easy-to-pack napkins or towels. Your future self will thank you.
Blankets and Add-On Layers
Unless you're taking over a traditional park picnic table, no picnic is complete with a soft, large-sized blanket or quilt to sit on during the festive outdoor feast. Other cozy textiles and throw blankets are thoughtful additions to your picnic setup as ground cover. Comfort is key for spreading out on greenery or natural terrain, so pile on extras to savor the natural surroundings and seasonal weather.
Festive or Themed Décor
Remember, picnics are art. These gatherings can be impromptu or pre-planned parties. Seasonal outdoor entertaining can be even more enjoyable if you bring along themed décor. Perhaps an international food, a tailgate, or an activity-based theme could spice up the picnic?
Light Snacks
Picnics can linger on when the weather is nice—and the company is pleasant. Your picnic crew might even find themselves hungry once again. Bring along extra finger or snack foods for later, such as crowd-pleasing granola bars, baked goods, trail mixes, and of course, nuts. Mixed nuts are the ideal sweet and salty picnic snack to throw a taste of happiness into your basket. Healthy, lightweight, wholesome, and filling, these nutritious nibbles are perfect for getting one's munch on in the great outdoors.
Shop Jaybee's Nuts for delicious and versatile snacks. They are impeccable for any at-home or on-the-go occasion—your favorite seasonal picnics included. Whether it's pecans, almonds, or whole nut cashews, you can't go wrong with our rich flavors and crunchy textures. Browse our assorted collections to find a nut, seed, or dried fruit product that suits you or your family's tastes and preferences today. Top delectable quality awaits you.