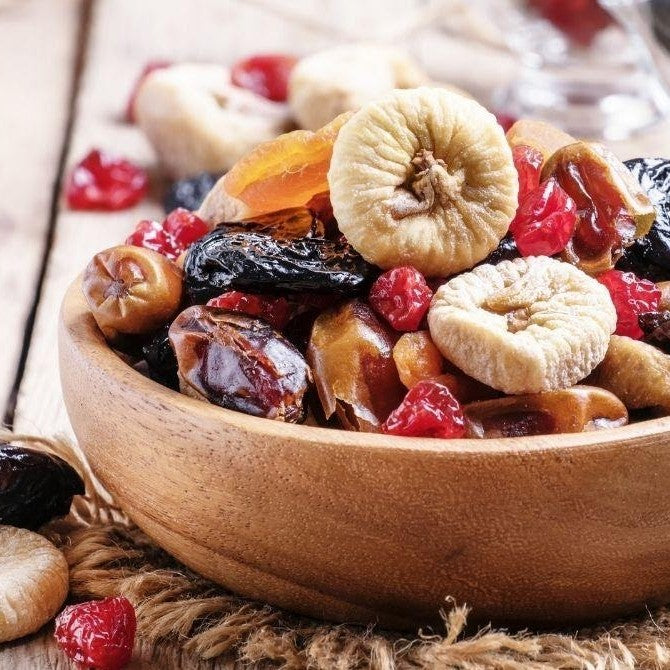 5 Creative Ways to Add Dried Fruit to Your Diet
Dried mangos, pineapple, and apricots—oh my! These conventional dried fruits—plus dried cranberries, papayas, and peaches as well as prunes and raisins—are welcome snacks in our busy everyday lives. However, dried fruit isn't just for good old trail mix anymore. A variety of dried fruit options are popular for use within daily dishes due to their incredible nutritive profile and longer shelf life compared to fresh fruits.
If you're curious about how to add a bit of crunch, sweet and savory flavor, and tasty texture to your meals and drinks, take a closer look at how to do so with these five creative ways to add dried fruit to your diet.
BAKE IT INTO BREAD OR PASTRIES
If you want to amp up dessert or breakfast or you're craving some hearty bread with nuts, seeds, and dried fruit, getting in your daily portion of fruits is a breeze when you mix them right into a tasty baked good. Use raisins in Irish soda bread, add your favorite mix of tropical dried fruits to muffins, or make a healthy dried fig and nut breakfast cookie for busy mornings. Your options for your desired taste and texture are limitless.
THROW IT INTO A SALAD
Dried fruit makes a scrumptious salad by itself or with fresh greens. Throw some yogurt or granola onto your favorite sweet dried fruits to make a fruit salad snack. Or toss dried fruits with some greens and throw a basic balsamic vinaigrette on top for a dinner side dish.
MAKE A SEASONAL STUFFING
Fall is the perfect time to consume some healthy and hearty stuffing. Dried fruits and nuts give a whole new life to traditional stuffing mixes or recipes. Chop up dried plums, cranberries, and apricots to add an intense-but-delightful complexity of flavor. This sweet and moist dressing could even become a staple for dinner parties or the upcoming holidays.
ADD IT TO HOMEMADE BARS
Dried fruits are wonderful additions to homemade granola bars, protein bars, or rolled oat bites. You can ditch the ultra-processed packaged snacks and make no-bake fruit and nut snacks out of natural ingredients. Use dried mangoes, papayas, apricots, and dates for a tart-and-sweet Fruity Pebbles flavor.
PREPARE BEVERAGE FRUIT INFUSIONS
Beverage infusions are another of the five creative ways to add dried fruit to your diet. If you'd like to infuse a refreshing flavor into plain water or tea, dried or dehydrated fruits are easy additions for a subtle kick. Plus, you can forgo the hassle of chopping up fresh fruits.
Whatever method you choose to stretch your creativity with, shop Jaybee's Nuts for top-quality nuts, seeds, and dried fruits. We carry a selection of the world's favorite dried fruits, including our dried papaya slices, which are sweet and unique in taste. You can't go wrong with the versatility of this chewy tropical fruit. Browse our assorted collections to incorporate dried fruit into a healthy diet today.