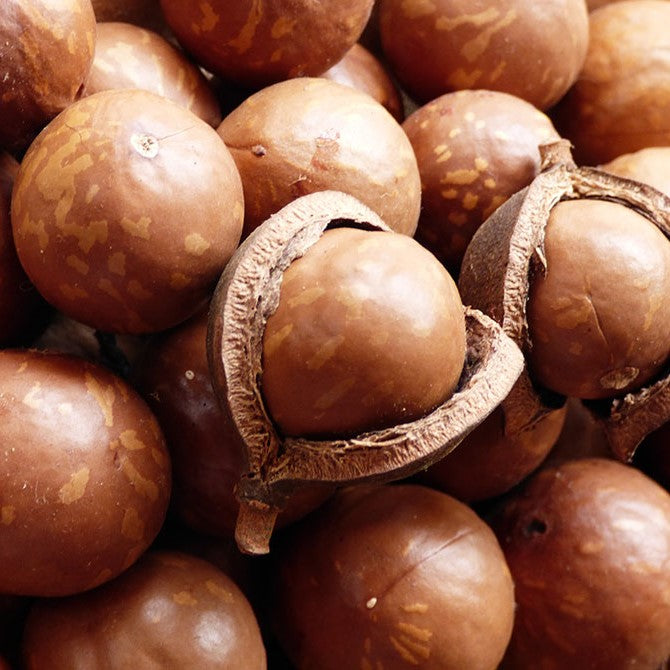 This Is Why You Should Go Nuts For Macadamia Nuts
Macadamia nuts are rich in monounsaturated fats, making them chockfull with health benefits. And they are tasty as well, coming with a rich, buttery flavor and creamy texture. Although native to Australia, macadamias are also grown in countries such as Brazil, Costa Rica and New Zealand today. Read on to find out why you should go nuts for macadamia nuts.
Rich in Nutrients
You will be surprised at how many nutrients are packed into one tiny nut. Below is a list:
Magnesium
Thiamine
Copper
Manganese
Iron
Vitamin B6
Monounsaturated fats
Antioxidants that help to neutralize free radicals, lower cholesterol and fight inflammation
Better Heart Health
One of the many benefits of consuming macadamia nuts is the lowered risk of heart diseases. The consumption of macadamia nuts has been linked to lowering LDL, or bad cholesterol, levels by up to 10%. In addition, it plays a role in reducing inflammation and lowering your risk of strokes and fatal heart attacks.
Aids in Weight Loss
Many people may mistakenly think that eating nuts lead to weight gain due to their high fat and caloric content. However, we have already established that the fats in macadamia nuts are healthy ones, with benefits for the human body. The high content of protein and fiber in macadamias help to promote feelings of fullness, curbing appetite. On top of that, the Omega-7 fat palmitoleic acid plays a part in guarding against unwanted weight gain. A win-win situation for all!
Contributes to Gut Health
Most nuts contain soluble fiber, and macadamias are no exception. This fiber can be beneficial to gut health, acting as a prebiotic. Producing short chain fatty acids (SCFAs) that help to protect against inflammation and certain conditions such as IBS, diabetes and obesity, it's no wonder so many people consume macadamias for health purposes.
Easy to Add to Your Diet
Besides all the amazing health benefits they come with, another reason to go nuts for macadamia nuts is how easy they are to add to your diet. Whether you prefer them raw or roasted, you can also get your daily dose of macadamia through products such as macadamia butter, milk and cheese. Providing an alternative to dairy products, you have many options when adding macadamia to your diet.
Buy A Variety of Nuts at Jaybee's Nuts
Are you looking to add macadamias or other nuts to your diet? If so, you have come to the right place at Jaybee's Nuts. We carry a wide range of nuts and seeds to suit your needs, including pecans, brazil nuts, pistachios, cashews and peanuts. Since our inception in 2015, we have been providing top-quality nuts for our satisfied customers. With doorstep delivery and a wide range of jars and gift baskets, start your healthy eating journey with us today. If you have questions or would like some recommendations, please do not hesitate to contact us.
References: https://www.healthline.com/nutrition/macadamia-nuts#section4