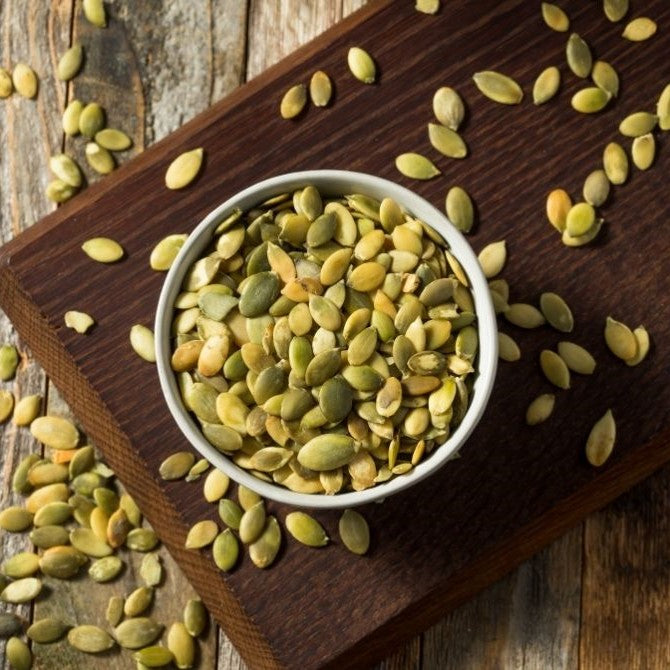 6 Pepitas Benefits Everyone Should Know About
Seeds and seedlings may be tiny bobs and bits, but their powerful impact on this world is utterly momentous. Pumpkin seeds, fondly known as pepitas, are especially mini powerhouses of nutrition. While the reverie of everything "pumpkin-spice" occurs during the autumnal season, pepitas are suitable snacks to consume any time of the year.
Pumpkin seeds in the consumer marketplace are visibly hull-less—contrary to the hardy white pumpkin guts scooped out of carved jack-o-lanterns during Halloween time, that is. Rather, pepitas are recognizably oval and flat—green seeds derived from certain types of pumpkins. Generally, these seeds are perfectly roasted for a crunchy, nutty flavor. You can't ignore these superfoods that pack a punch of valuable perks. Here are six pepitas benefits everyone should know about.
BOLSTER YOUR IMMUNITY LEVELS
Out of the six pepitas benefits everyone should know about, pumping up your body's immunity tops the list. The past year has shown us how pivotal a strong immune system is. Since pepitas are solid sources of zinc, consuming them daily can play an integral role in immune function. This is a simple way to sneak in some flavor while doing so.
PLANTED-BASED PROTEIN BOMBS
Protein is an essential macronutrient to incorporate into one's diet. Responsible for the growth, repair, and maintenance of cells, this muscle building-block stems from meat-based and plant-based sources. Pepitas stack up highly nutrition-wise to boost your protein intake—not to mention fiber as a mighty bonus for your digestive system.
JAM-PACKED WITH ANTIOXIDANTS
Pepitas uniquely contain a variety of antioxidants as nutritional assets. This diverse mixture of Vitamin E and phenolic acids provides special anti-inflammatory properties not typically found in other foods.
NATURAL SOURCES OF MAGNESIUM
Numerous individuals in Western populations lack magnesium in their daily nutrition. Fortunately, pepitas are organic sources of this mineral that support a healthy lifestyle. Your body requires magnesium for many diverse processes, including regulating nerve and muscle function and monitoring blood sugar and blood pressure levels.
HIGHLY-PROBABLE HEART HELPERS
Everybody desires a healthy, beating heart. Pepitas are here to help ensure so, as vital sources of zinc and fatty acids that may help reduce the risks of heart disease. According to Healthline, past studies have suggested that these tiny powerhouses can increase nitric oxide generation to enhance blood flow.
SUPPORTIVE OF DEEPER, IMPROVED SLEEP
Let's face it: we need adequate levels of rest to get through each week. Pepitas contain ample amounts of tryptophan, an amino acid suitable for aiding better sleep every night. Its zinc levels can also convert to melatonin which helps regulate one's sleep cycles.
PEPITAS: SHOP THE ONLINE MARKETPLACE
If you're on the lookout for a superb place to buy pepitas online, look no further than Jaybee's Nuts. As a supplier of a wide range of popular seeds, nuts, and dried fruit, we're here to provide top-quality products that suit your lifestyle. Our pepitas come roasted and unsalted, ideal for a variety of cooking applications or snacking occasions. Glance over their nutritional value listed on our product page today. Feel free to contact us with any questions about our tasty offerings.