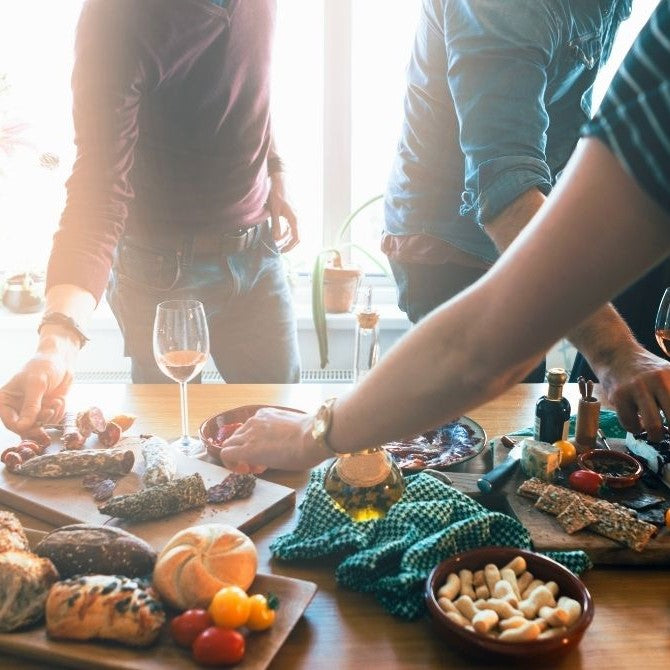 10 Party Snack Ideas to Try Out on Game Day
Munching contently on tasty snacks is the epitome of a happy life. Whether you're viewing the game solo from the comfort of your couch or hosting a viewing party for your favorite home team, munchies are a must-have to complete the event.
We've compiled a list of nut-based snack options to serve as part of your menu. These recipes are a cinch to pull off and are just as delicious as some less-healthy traditional party versions. Browse through this list of ten party snack ideas to try out on game day.
SNACKS FOR THE SWEET TOOTH
Maple-Vanilla Candied Nuts
These candied nuts require five ingredients: walnuts or pecans, pure maple syrup, vanilla extract, ground cinnamon, and a pinch of salt. Add all the ingredients evenly to a sauté pan, stir well over medium heat, and reduce heat to a simmer. Remove from heat once the maple syrup crystallizes.
Autumn-Spiced Pumpkin Seeds
Perfect for the autumnal season, these sweet-spiced pepitas are a fresh taste for the tongue. Combine sugar, cinnamon, all-spice, cumin, and a tad of cayenne with egg whites. Then, stir in the seeds, and bake them at 300 degrees for 20 minutes.
Dark Chocolate Sea Salt Almonds
So simple and so delicious—gather up unsalted almonds, high-quality dark chocolate, and sea salt. Melt the chocolate on the stove top, cover all the almonds with it, and then sprinkle on the salt. Place them in the fridge to set, and voila!
Muddy Buddy Mix
This popular snack requires unsweetened cocoa, peanut butter, powdered sugar, your choice of cereal squares, and chocolate chips. You can whip this dessert-esque snack mix together in 10 minutes.
FRUITY FINGER FOODS
Confetti Fruit Munchies
Coat pretzels with peanut butter and powdered sugar, and throw in dried mangos, pineapples, and fruit pieces to add crunch and flavor.
No-Bake Peanut Apple Balls
Use dried apples, apple pie spice, honey, cereal flakes, and crunchy peanut butter to whip up these light and fresh finger foods. No-bake; no sweat.
SPICY AND SAVORY NIBBLES
Cajun-Boiled Peanuts
This old-time snack is the embodiment of casual parties and game events. Firm, smoky, and spicy, you can make these on the stove top or in a slow cooker.
Sweet and Spicy Rosemary Bar Nuts
A slew of mixed nut flavors is wonderful for entertaining. Try mixing up rosemary, nutmeg, ginger, molasses, thyme, and chili powder with a bit of olive oil to make this flavor.
Roasted Red Pepper and Walnut Dip
For the chips-and-dip lovers, you can throw this spread together with pomegranate juice, walnuts, breadcrumbs, lemon juice, red peppers, cumin, olive oil, and cayenne pepper.
Spicy Kale and Brazil Nut Dip
As a healthier alternative, this zesty dip combines nutrient-dense kale, bone broth, brazil nuts, cilantro, avocado oil mayo, and jalapenos. Serve it with veggie sticks, on a sandwich, or with crackers.
Shop Jaybee's for your snacking needs. Our raw brazil nuts for sale are especially delightful for baked goods or snack treats. Whether at home, at school, at the office, or on a party night, you can't go wrong with our delicious nuts and seeds. With Jaybee's nuts, these ten party snack ideas to try out on game day are sure to be a touchdown.