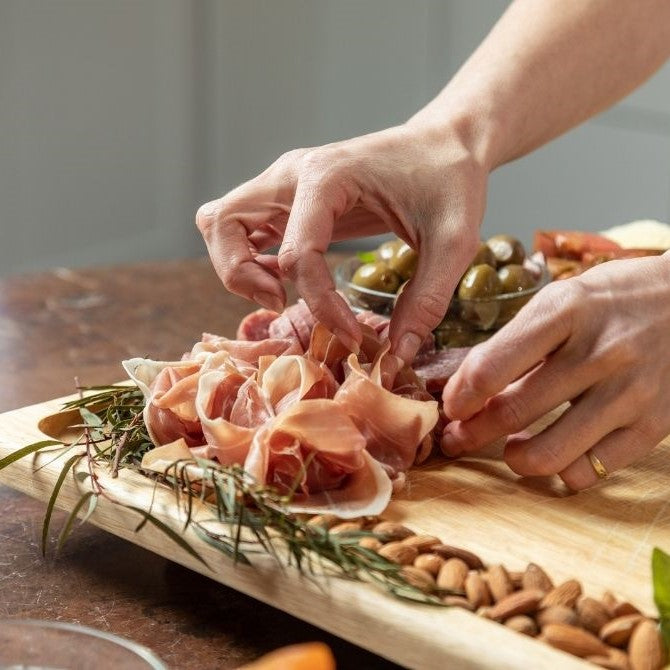 Tips For Making The Perfect Charcuterie Board
"After a full belly, all is poetry," wrote Frank McCourt in his memoir Angela's Ashes. Truly, there is nothing as poetic as the memorable satisfaction of a feasting experience. Perhaps you've heard of "food for the soul" or "made with love?" When you're in the midst of cooking, curating, or presenting food, you can feel expressive power speaking out to you. You can create something out of absolutely nothing through thoughtful arrangement, assortment, and a wide array of ingredient variety.
Charcuterie—you've most likely heard this buzzword from family, friends, or strangers on social media. Pronounced shar-coot-ery, this artful arrangement of foods refers to a traditional French style of preparation and presentation. Charcuterie boards, platters, trays, and plates date all the way back to the fifteenth century—the same era of the first pianos, oil paintings, golf balls, spectacles, and whiskies of the world.
These days, this trendy, nibble-friendly board offers the perfect healthy appetizer alternative for any entertaining or gathering, from super simple get-togethers to more refined dinner parties. Let's dig a bit deeper into how to create an impressive, satisfying, and nourishing spread. For your consideration, here are a few of the top tips for making the perfect healthy charcuterie board.
BALANCE QUALITY STAPLE INGREDIENTS
What began as a singular concept has evolved remarkably over the decades to become more artistic and elaborate displays of fine dining and food assortment. The key to achieving perfection with a charcuterie plate is proportion. Healthy eating is a balancing act of the right ingredients and the right size portions. Traditional charcuterie boards tend to include a slew of cured meats and cheeses that lean toward unhealthy. Instead of venturing down this path, make dietary choices that add equal taste and nutritional value to your board.
From the get-go, charcuterie art has no set rules. This type of eating is all about mixing and matching. But do consider the following guidelines: fill the board with whole grains, hearty proteins, healthy fats, fresh fruits, crisp vegetables, delectable spreads, sweet and savory nuts, and lower-calorie options. Feel free to make substitutions where you see fit, such as fully gluten-free, sugar-free, dairy-free, keto, vegetarian, pescatarian, or vegan alternatives.
CHEESE AND MEAT: INCORPORATE VARIOUS TEXTURES AND FLAVORS
The best thing about modern charcuterie platters? Mix and match the sum of the fixings to fulfill your own desires or the select tastes of friends and family members. Think about how you can get creative with your charcuterie selections. You can certainly make use of items that will pair visually and tastefully together. But think broader about thematic colors or flavor profiles when putting items side-by-side. Planning is key. Map the board out in your head when considering the scenarios and possibilities.
With your staple items, such as meats and cheeses, texture and taste variation are essential. Incorporate three or more varieties throughout the board. Smarter choices keep the board healthy. Reduced fat or crumbled cheeses are good combinations for straightforward nutrition. That said, hard, soft, and spreadable cheeses are still appropriate additions—it's all about moderation. Brie, sharp cheddar, and gouda are popular choices, as well. Put your favorite go-to cheese on the board, but keep the portion smaller when loading up your own plate.
When it comes to meats, lean beef or deli-style smoked poultry is ideal. Yet, if you desire to follow classic charcuterie style, select minimally-processed or nitrate-free artisanal selections. Naturally-cured salami or prosciutto helps add that salty, smokey, and spicy variety in terms of texture and flavor. Fig salami or vegan pepperoni is also a yummy, bold alternative on any charcuterie board. Think outside the box to lower sodium or sugar content if you desire.

CRUNCHY COMPONENTS: KEEP CARBS IN CHECK
Charcuterie boards often incorporate a selection of crispy crackers or bite-sized mini grains. These classic foundational pieces are perfect to pair with meats, cheeses, or spreads as an open-faced sandwich. However, the pairing simultaneously produces a carb-loading dilemma. You shouldn't fill up on mediocre grains if more stellar options are available.
Consider whole wheat baguettes, fresh-baked homemade crostini, or whole-grain cracker options to add a crunch of good fiber to the board. Sprouted seed or nut-based crackers are also a satisfying, refined twist to plain crackers. You can even bake your own crackers with almond flour or sweet potatoes.
BLEND A MEDLEY OF COLORS: SEASONAL FRUIT AND VEGGIES
Tasting the rainbow is one of the top tips for making the perfect healthy charcuterie board. Fresh and dried fruits are a wonderful addition that infuses your board with a pop of color and sweetness. Cut-up apples, pears, or apricots slices are apex bite-sized choices. Don't forget about poppable red or green grapes and berries you can grab with your fingers. Low-sugar dried fruits such as raisins, dates, and raisins are a natural confection that leaves your taste buds happy and content. Other selections such as dried mango or kiwi can instill a tropical or beachy theme that recreates the vacation vibe at home.
Vibrant seasonal vegetables such as red radishes and rainbow carrots pair well with soft cheeses or dips. Asparagus, cherry tomatoes, cucumbers, bell peppers, celery, broccoli, cauliflower, or even pickled vegetables contribute a refreshing crunch to the board. Olives and pickled or brined foods also offer a tangy, savory burst of flavor. Don't forget about delectable spreads such as hummus, guacamole, gourmet mustard, bean dips, or pate for dipping.
GO NUTS FOR PROTEIN: THE MUST-HAVE FINAL TOUCHES
An additional protein-packed healthy choice arrives in the finishing touches to the board: mixed nuts for grazing. Your favorite raw or roasted nuts top the list, such as almonds, cashews, pecans, walnuts, and pistachios.
Ready to make a charcuterie board of your own that's sure to impress guests or household companions? All you need is the right bite-sized goodies. When you're in complete control of the ingredients, a delicious and nutritious board is guaranteed. Remember that variety is the very spice of life.
To find top-quality nuts for sale online, shop Jaybee's Nuts. At Jaybee's, we hoot and holler for healthy, happy snacking. We sell a variety of fan-favorite nuts and seeds, such as almonds, pistachios, peanuts, cashews, brazil nuts, pumpkin seeds, as well as dried fruits. Browse our tasty offerings today to add to your grazing plates or trays for enjoyable occasions to come.