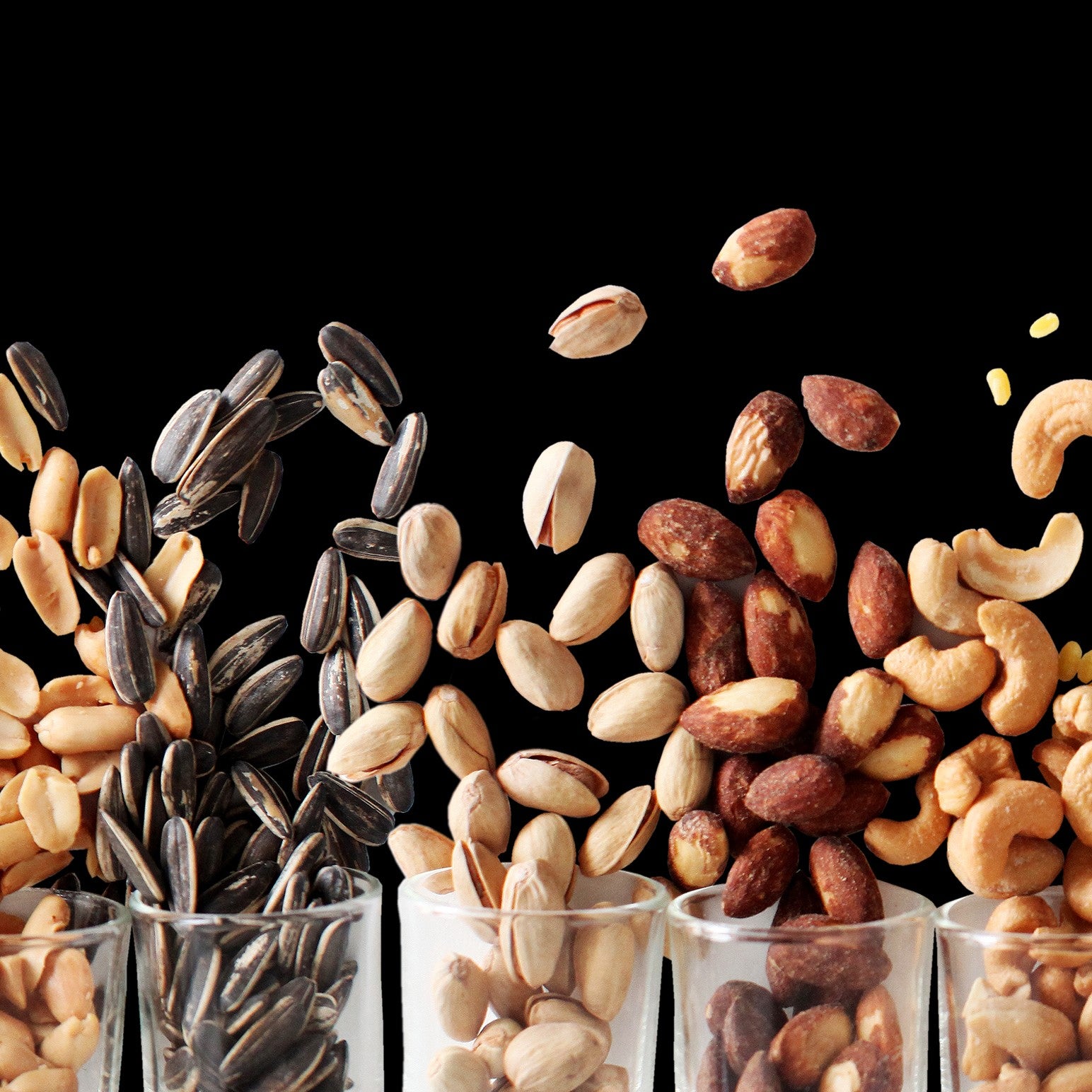 8 Nuts To Go For!
We all know that nuts come with a whole host of health benefits. This is thanks to the fibers and proteins they contain, not to mention an assortment of different vitamins. Keen to add nuts to your diet, but unsure which ones to go for? Is there a specific vitamin you are looking to add, or a particular health concern you want to address? We highlight 8 nuts and their unique health benefits in this article.
Cashews
If you suffer from metabolic syndrome, cashews are the nuts for you. Cashews have been found to improve blood pressure and blood sugar levels in sufferers of metabolic syndrome. However, they have also proven to be a good choice for healthy people, increasing "good" cholesterol levels and keeping blood pressure low.
Pecans
Besides being a great dessert toping, pecans help to increase the antioxidant profiles in your blood as well as lower the level of "bad" cholesterol.
Brazil Nuts
Brazil nuts are rich in selenium, making them a great choice for people who are undergoing hemodialysis for kidney disease. Besides that, brazil nuts can reduce cholesterol and inflammation in healthy people.
Walnuts
Walnuts are known for being high in a certain Omega-3 fatty acid, alpha-linolenic acid. This means that eating walnuts is good for your heart health, increasing the level of "good" cholesterol in your body and aiding in normal circulation of blood. Besides that, eating walnuts also helps to reduce the risk of heart-related diseases.
Macadamia Nuts
Similar to walnuts, macadamia nuts are great for heart health because of the high amount of monounsaturated fats they contain. Macadamia nuts help to reduce the level of "bad" cholesterol while increasing that of "good" cholesterol.
Almonds
If you are overweight or suffer from diabetes, you may want to try almonds. Almonds can aid in weight loss when consumed as part of a low-calorie diet, as well as reducing blood pressure. Besides that, almonds have been found to reduce inflammation in sufferers of Type 2 diabetes.
Pistachios
Pistachios are high in fiber and aid in the reduction of blood sugar after meals, additionally lowering the risk of heart diseases.
Hazelnuts
Similar to many nuts on the list, hazelnuts aid in heart disease prevention and lowering "bad" cholesterol levels. Besides that, hazelnuts also improve blood vessel function and are great sources of Vitamin E.
Try A Whole Assortment Of Nuts with Jaybee's Nuts!
Has a particular nut caught your attention, or are you looking to try a little bit of this and that? Whatever it is you are looking for, you can be sure to find it among our wide range of delicious nuts! Since our establishment in 2015, Jaybee's Nuts has been providing top-quality nuts for our satisfied customers. With jars and gift baskets delivered right to your doorstep, start your healthy eating journey from the comfort of your own home! If you have questions or would like some recommendations, please do not hesitate to contact us today!